Ani Choying Drolma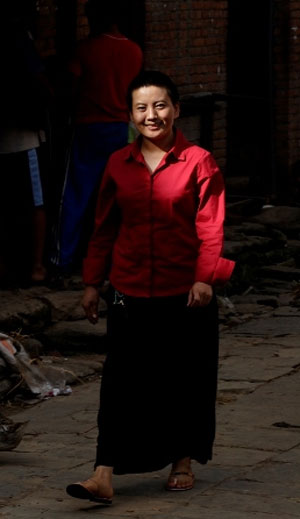 Ani Choying Drolma is a Nepalese Buddhist nun renowned for her numerous humanitarian efforts including the education of young girls, care of older people, and providing medical services for the underprivileged and dispossessed. Her efforts have been constantly praised and emulated, and her autobiography, Singing for Freedom, has been published in eleven languages and is listed as an international best seller. As of this writing, Ani is not yet 40!
To support her many charitable activities, Ani performs worldwide singing traditional and modernized Buddhist chants as well as Nepali and Tibetan songs. She has performed for countless fans. Last year, she was heard in nine countries. In 2011, she is scheduled to perform in eleven.  She is a charming, attractive, vibrant and eloquent performer, admired by fans in Nepal and throughout the world. The haunting melodies of her ancient songs and hymns have been passed from master to pupil for many centuries.
Ani believes, if given equal opportunities, nuns have the potential to make the world a better place. One of her great and early accomplishments was the creation of the Arya Tara School, which opened in 2000. The school aims to equip nuns with the abilities and skills necessary to professionally serve their communities in a humanitarian capacity. Arya Tara School helps young nuns harness their compassion in effective, meaningful ways. "Traditionally," says Ani, "women's education is neglected in Asia. Most of the girls at my nunnery are from rural areas where women are expected just to cook, clean and bear children. Many cannot write their own names."  The school educates them in literacy, math and science, as well as medical and nursing skills, and Buddhist philosophy.
In 1997, Ani began performing and recording her music for audiences around the world. She was discovered by a young American guitarist named Steve Tibbets who heard her chanting. Upon returning to Nepal, he recorded her and subsequently added accompaniment; the result being the best selling album called Cho. Since then, she has gone on to record multiple CDs and gained international fame and popularity.
Singing for Freedom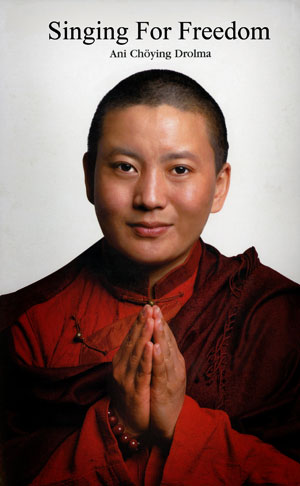 From the age of five, Ani Choying had to struggle to survive. Not a day went by without a bloody beating from her father, without Ani fearing for her mother's life or her own. The day her father nearly stabbed her to death, she decided it was time to run away. Ani found herself at a monastery in Nepal, where a Buddhist monk offered her sanctuary and understanding, teaching her to embrace life again. She found her vocation in offering other young girls an education, a fundamental right that is primarily reserved for men only in her country. In fact, 80 per cent of women in the Himalayas are illiterate. In 2000, Ani Choying opened Arya Tara school just outside Kathmandu. She went on to adopt a little girl, then two, and then another until they became sixty. Before long she needed more funding to keep her growing community afloat, and it was her music that ultimately provided the funding. Even so, royalties from her recordings cannot provide all the money needed to sustain and develop the school and Ani's other programs. Today, she needs your help too. In Singing For Freedom, Ani tells her sometimes shocking, always inspiring story – leaving us with a deep rooted admiration for the person and the burning desire to support her endeavors.
Singing for Freedom soon available in the United States.